Guy McPherson: Climate Change and You
Wednesday, October 10, 7:00 -9:00 pm
Sunderland Public Library | 20 School Street, Sunderland, MA
Guy McPherson is a unique and fascinating individual with a compelling life story. After 20 years as an award-winning conservation biologist and professor at the University of Arizona (author of 10 books and over 100 articles), he made a "decision of conscience" to leave and pursue more direct, efficacious responses to the changes he sees coming in our world resulting from energy decline and climate change.
Guy volunteers his time talking to people wherever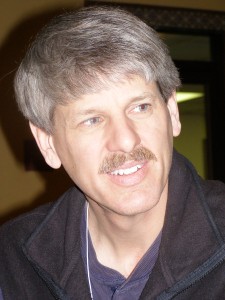 they'll have him, about both the disaster-seriousness of our course, a course which has created the ecological and climactic chaos we're experiencing, and ways in which we can and must mitigate that as individuals, communities, and societies. Guy talks about how individuals can work together to strengthen their own resilience, and prepare for a world of change. His talks highlight the importance of living sustainably, a necessity driven by the ongoing collapse of the environment and the industrial economy, and by the arriving shortages of cheap oil. Guy McPherson peered over the edge into the Peak Oil and Climate Change abyss, and rather than backing away, jumped in. The author of the blog Nature Bats Last and most recently, Walking Away from Empire, Guy is a conservation biologist who has a keen grasp of the severe ramifications of the climate course we're on. So he walked away from his high-paying, prestigious, tenured position at a major university and now raises goats, vegetables, and community in the desert outside of Tucson, AZ. He's smart, he's laugh-out-loud funny, and he's much more humble than he would have you believe. Guy lays the truth out clearly, in a gentle, humorous, but matter-of-fact and inescapable sort of way.
Join us for what is sure to be a stimulating evening.
The lecture, which is free and open to the public, will take place at the Sunderland Public Library at 20 School Street, Sunderland, MA.
Co-sponsored by the Sunderland Public Library, the Conway School, and River Valley Market